Elegant Lakefront Wedding Venue – Tavares Pavilion on the Lake
If you've been dreaming of tying the knot water-front, then you must check out Tavares Pavilion on the Lake. Located in Tavares, FL near Wooten Park, this elegant wedding venue has just about everything a couple could want. Tavares Pavilion on the Lake is a gorgeous 8000 sq ft building complete with floor to ceiling windows, winding staircase, and picturesque scenic pier. It is an indoor/outdoor venue which gives you the flexibility of having your ceremony and reception inside and your cocktail hour and grand exit outside on the 150 ft long pier. Or do your ceremony outside during those cooler Florida months and have your reception inside! We have shot several weddings at this beautiful venue and each one has been uniquely elegant and perfect for that couple.
 What's Included at Tavares Pavilion
One of our favorite things about the Tavares Pavilion is their staff! They all go out of their way to create the perfect day for you logistically! They provide tables and chairs for your event at no additional charge and have several possible configurations that allow a variety of seating possibilities. They do have a maximum of 190 chairs for the ceremony. Tavares Pavilion has separate getting ready rooms available for the bride and groom, complete with beautiful couches for relaxing and a pool table! The Key West Resort at Lake Dora is also right around the corner and many of our SFP couples have used that as their getting ready location. (Click here to see some getting ready photos at The Key West Resort). The venue also has a podium, wireless microphones, glass beverage dispensers, a projector and screen, a pool table, and glass votives available to rent. They even have a snow machine that you can rent if you're looking to tie the knot in a winter wonderland without the arctic temperatures! There are restrooms on both levels of the venue and two elevators making it handicap accessible. While they do not have their own parking lot, there is a parking garage and street parking within walking distance!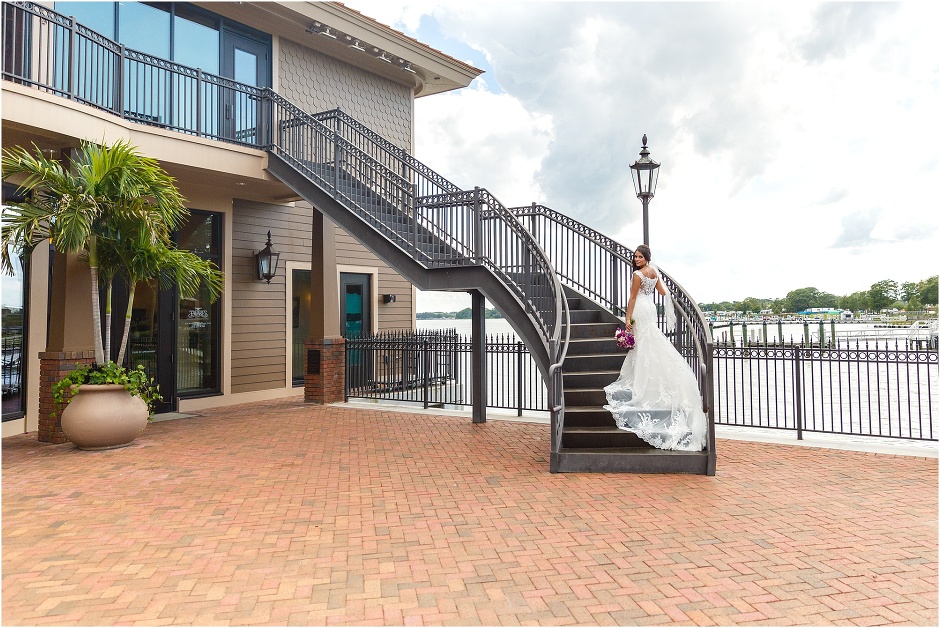 PIN It!IMAGE


PIN It!IMAGE



PIN It!IMAGE



PIN It!IMAGE



PIN It!IMAGE


A Plethora of Photo Opportunities
This venue allows for several different and gorgeous areas to take photos on your big day. The scenic pier with the sweeping outdoor staircases is elegant. The small boat dock provides a picturesque lake view and the surrounding parks bring out the jungle-like nature elements that Florida is so well-known for.



PIN It!IMAGE


PIN It!IMAGE



PIN It!IMAGE



PIN It!IMAGE



PIN It!IMAGE



PIN It!IMAGE



PIN It!IMAGE
Tavares Pavilion Wedding Vendors
When it comes to vendors, you've got a lot of options! They have five preferred caterers to choose from with a wide variety of food styles and packages available to you. Those caterers are Arthur's Creative Events & Catering, Big City Catering, John Michael Weddings & Special Events, Pisces Rising, or Puff 'n Stuff. There's something for every taste! The caterer is the only vendor they have specifications about, so your flowers, DJ, etc. can be anyone you choose.



PIN It!IMAGE



PIN It!IMAGE
Grand Exit Inspiration
One part of the wedding day we always look forward to at Tavares Pavilion is our couples' creative take on the grand exit. This venue's stunning gas lamp lined 150 ft long scenic pier is perfect for your epic send-off! Tavares Pavilion does not allow sparklers or confetti because they are not lake-friendly. So that just means you get to think outside of the box. Here are some of the awesome ideas other SFP couples have had for their big day, ranging from bubbles to our favorite, no-mess poppers!



PIN It!IMAGE



PIN It!IMAGE
Rental of Tavares Pavilion for Your Wedding
A full building rental of this gorgeous venue ranges from $1000-4000 depending on the day of the week and if your wedding will be during the day or at night. Tavares Pavilion on the Lake takes bookings up to 18 months in advance which will give you plenty of time to plan your perfect day. They do require a deposit of 50% of the rental fee plus tax to secure your date and a $1000 security deposit which will be returned to you within 30 days of your wedding day after an inspection by the city.
If you're looking for a venue that will provide an elegant and scenic backdrop for your wedding day, Tavares Pavilion on the Lake will not disappoint. We always look forward to shooting here and know you'll love it too! You can call 352.253.4300 or 352.742.6338 for bookings or email tavarespavilion@tavares.org.
PS … check out one of the many weddings we've photographed at Tavares Pavilion here!