We were looking forward to Aimee and Jason's wedding all year! The 4th of July is one of our favorite holidays and this year we got to spend it with their amazing family. Aimee chose to have her wedding on the 4th because her parents were married exactly 51 years prior. How sweet is that?! The Tavares Pavilion was the perfect venue and their guests got front row seats to a full firework show. We loved her creative twist on the traditional red, white and blue color scheme. Their wedding was full of gorgeous details and Plan It Events did a great job pulling it together for Aimee and Jason.
We love meaningful details like Aimee's gorgeous bouquet charms.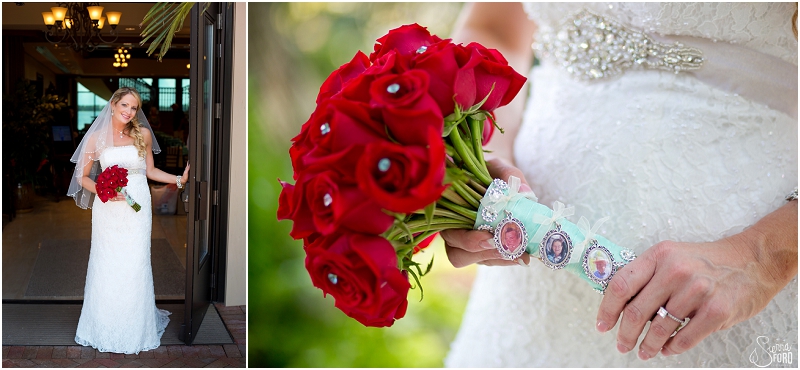 PIN It!IMAGE



PIN It!IMAGE



PIN It!IMAGE
Aimee and Jason did a first look and she still got this reaction as he saw her coming down the aisle.



PIN It!IMAGE
Aimee, you are so cute!



PIN It!IMAGE
We were lucky to get these pictures during the calm before the storm. Those clouds though!



PIN It!IMAGE
The groom's cake was prettttty awesome.



PIN It!IMAGE
There were so many sweet dances and thoughtful moments at this wedding. Aimee had her parent's wedding song played AND brought her mom's 51 year old veil for her to dance in. There wasn't a dry eye in the room.



PIN It!IMAGE



PIN It!IMAGE
The ladies of Our DJ Rocks kept the party going all night long. We LOVE working with them!



PIN It!IMAGE
We weren't kidding when we said the Pavilion was the perfect venue. This might be one of our favorite pictures to date! <3



PIN It!IMAGE
Thank you two for having us there for your incredible day. Our hearts were so full seeing how much love you all share! We wish you 50 more 4th of July's together and much happiness <3
Venue: The Tavares Pavilion on the Lake
Event Coordinating: Plan It Event Design & Management
Cake: Sweetest Things Wedding Cakes
Hair & Makeup: La Rue Kay Salon
Caterer: John Michael Catering
Floral & Decor: Arielle's Flowers & Gifts
Officiant: Charles Kilcrease
DJ: Our DJ Rocks
Photography: Sierra Ford Photography
Second Photographer: Megan Montalvo Photography